Home Health Services by Saad Healthcare
Listed below are the different home healthcare services our agency provides. For a more detailed description just simply click on the service you are interested in. Home Care services are provided by our talented team of healthcare professionals that includes RNs, LPNs, PTs, PTAs, OTs, and CNAs. If the service you are looking for isn't listed below a Patient Care Coordinator can be contacted at (251) 343-9600 or message us using the chat tool.
Saad Healthcare is dedicated to providing highly-skilled nursing care to patients in their own homes.
Our RN's are not only some of the best trained and certified home healthcare nurses in the field, but also provide care and medical services with courtesy, respect, and warmth. That is the Saad way. We offer nursing services on both a short and long-term basis. So whether nursing is needed during recovery from an illness, accident, or surgery, or more lengthy care is required, Saad Healthcare is the one call to make to give you the confidence that comes from knowing you are doing the right thing for your patient or loved one.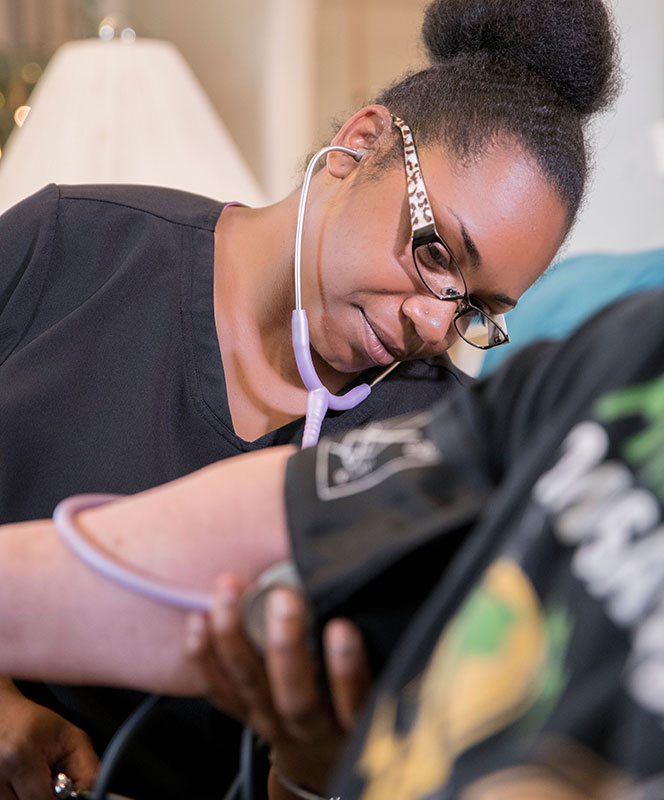 Pulmonary and Respiratory Care
For Gulf Coast patients suffering from respiratory ailments, such as difficulty breathing or chronic lung disease, the medical staff at Saad Healthcare is comprised of nurses who are certified in pulmonary medicine, and understand what medications and exercise programs can benefit you most. They are trained in the most advanced treatments for your lungs and follow strict measures and protocols to provide you with the best and safest methods of care. At Saad Healthcare, we offer services ranging from cardiopulmonary rehabilitation – education, exercise, peer support, and guidance from our staff of medical professionals.
Saad Healthcare provides treatment for the following respiratory ailments:
Asthma
Chronic obstructive pulmonary diseases (COPD)
Emphysema
Chronic bronchitis
Pneumonia
Cystic fibrosis
Lung cancer
Sleep apnea
Respiratory failure
Diabetic Care
Diabetes is a chronic illness that requires ongoing medical care as well as patient self-management, and education to prevent acute complications and to reduce the risk of long-term complications. At Saad Healthcare our trained staff is uniquely prepared to treat and manage complications as they arise under guidance from your primary care physician.
Our diabetic care provisions include:
Lymphedema therapy
Eye examination
Insulin therapy
Wound care
Enterostomal Therapy
This specialized field of nursing involves caring for patients with stomas, incontinence, dermal ulcers and other select skin conditions or those needing wound care. The skilled nursing staff at Saad Healthcare specializes in caring for patients with urinary and/or fecal diversions, draining wounds and fistulas, incontinence, and chronic wounds such as pressure, or vascular ulcers.
Saad Healthcare therapists can provide rehabilitative care to those with disorders of the gastrointestinal, genitourinary and integumentary systems that has required the surgical creation of an ostomy (stoma). The primary goal of therapy for Saad Healthcare is to facilitate the transition from the hospital to the home. A Saad enterostomal therapy nurse will provide the patient and their families with the education needed for independent stoma care at home, as well as education to prevent and treat certain stomal complications and skin problems.
Our outpatient service also provides an opportunity for follow-up care by the enterostomal therapy nurse for reasons such as these:
Alterations can be made in the plan of care, if needed
Previous education can be reinforced
Emotional support can be provided
Stoma and skin problems can be resolved
Intravenous Services
At Saad Healthcare we can deliver liquid substances and medications intravenously. This intravenous route of administration can be used by our highly trained and skilled staff to administer injections or infusions, commonly referred to as drips. Infusions may be required for chemotherapy for patients who do not require hospitalization, antibiotic therapy, diabetes treatment, vitamin therapy, hydration, physician-prescribed treatments, and pain management for the patient suffering from chronic pain. I.V. therapy allows the patient to return home from the hospital at an earlier stage of treatment while maintaining the highest level of care. Education for the patient and family in combination with close supervision by our skilled nursing professionals are key elements of each patient's program.
Physical Therapy
With over 40 registered physical therapists and assistants, Saad Healthcare provides highly skilled services for many illnesses, injuries, and surgeries. Our goal is our patients' recovery and independence. We offer more frequency with better outcomes on our specialized programs, which allow for a faster recovery time. Services are provided in home and are second to none in providing state-of-the-art treatment following an injury or surgery such as knee or hip replacement, LSVT or Parkinson's care.
Physical therapy services Include:
Evaluation/Treatment
Fall Prevention Program (Steady Steps)
Therapeutic Exercises
Gait Training
Neuro Re-education/Balance
Endurance and Strengthening for Cardiac Rehab
Spine/Joint Mobilization
Home Assessment for Safety/Accessibility; Medical Equipment Evaluation and Training
LSVT Big (Parkinson's Program)
Lower Extremity Mobilization
Modalities as Indicated: anodyne, ultrasound, E-STIM, Phonophresis, TENS, Moist hot- pack
Surgical Protocols: Total Knee, Hip, and Shoulder Replacements; Spinal Surgery Rehab
Stroke Recovery
Amputation with Prosthetic Training
Occupational Therapy
Occupational therapy is about helping people do the day-to-day tasks that "occupy" their work or leisure time, sustain themselves, and enable them to contribute to the wider community. It is these opportunities to get back to these tasks following an illness or injury that prove important and meaningful to the health of our patients at Saad Healthcare.
Our highly skilled therapists enable patients to lead more productive, active, and independent lives through a variety of methods, including the use of adaptive equipment. Saad occupational therapists work with patients in several environments, such as in their homes or in one of our care facilities. In the home environment, they are trained to assess for hazards and identify environmental factors that contribute to falls. Saad Healthcare therapists are often instrumental in assessing for appropriate wheelchairs and other specialized medical equipment for their patients.
Speech Therapy
At Saad Healthcare our on-staff speech therapists work toward preventing, assessing, diagnosing, and treating speech, language, social communication, cognitive-communication, and swallowing disorders. At Saad Healthcare, we lead the way in this important rehabilitation service. Often needed following an illness, surgery, stroke, or injury, social communication disorders are also found in individuals with other conditions, such as traumatic brain injury. The therapists at Saad Healthcare are trained in the latest modalities to provide best-in-class care for patients suffering from any kind of speech disorder. We offer specialized programs geared towards Parkinson's patients (LSVT), with clinically proven methods for improving speech and voice that are tailored for each individual's needs.
Services Include:
Evaluation/Treatment
Swallowing/Speech/Cognition
Vital-STIM
LSVT Loud (Parkinson's)
PESL (Accent Modification)
Home Infusion Therapy
Receiving therapy at home from Saad Healthcare, outside of a hospital or clinical setting, is often a preferable option for those facing chronic illnesses, recuperating from surgery, or being treated for an infection. It is primarily a safe and cost-effective alternative to an extended stay in a hospital or nursing home, and allows the individual to maintain their normal daily activities at home. Our goal at Saad Healthcare is always to provide ways for our patients to keep living life to the fullest, and home infusion therapy serves that end.
Saad Healthcare has been delivering compassionate, best-in-class care to our patients for over 50 years and offer services home infusion therapy unsurpassed in the Gulf Coast region, including:
Alpha-1 augmentation
Anti-infectives (antibiotics, antivirals, antifungals)
Chemotherapy
Hemophilia therapies
Hydration
Inotropes (cardiology)
Immunoglobulins (IVIg and SCIg)
Immunosuppressives
Infusions for MS (TYSABRI® Touch and LEMTRADA program-certified?)
Nutrition – Enteral (tube feeding)
Nutrition – Parenteral
Nutrition – Intradialytic parenteral (IDPN)
Pain management, palliative care
Pre- and post-transplant therapies
Specialized Wound Care
Saad Healthcare's Wound Care Program offers a comprehensive approach to caring for patients with acute and chronic wounds. Using the most advanced and effective wound care products and therapies, our experienced team of wound care clinicians work with a patient's physician to develop an individualized treatment plan. Using researched based protocols, our goals are reducing healing time, enhancing patient comfort, and restoring quality of life.
Wounds that fail to heal correctly or that heal too slowly can be caused by a number of conditions. Patients with acute or chronic wounds that do not show signs of healing after two weeks, and patients with complicated surgical or traumatic wounds, whatever the wound's cause or associated disabilities, may be appropriate for Saad's Wound Care Program.
Examples of wounds that we treat include:
Diabetic Wound
Surgical Wounds
Pressure Wounds
Arterial Wounds
Radiation Necrosis
Venous Stasis Ulcers
Osteomyelitis
Traumatic Wounds
Soft Tissue Infections
Compromised Skin Grafts and Flaps
Gangrene
Complex Soft Tissue Wounds
Collagen Vascular Wounds
Osteoradionecrosis
Medical treatment is provided in the privacy of the patient's home
A team approach is used for complex cases, integrating specialized skills and insights from a variety of disciplines. Our Wound Care Certified nurses and physical therapists with advanced wound care training and certification deliver a comprehensive range of services to our patients, including:
Performing extensive assessment to detect factors causing delayed wound healing and working with the patient's physician to treat the underlying conditions.
Providing the physician with status reports on the healing progression, with digital imagery.
Performing risk assessment for potential skin problems.
Recommending supportive equipment and wound care products to accelerate healing.
Evaluating treatment for effectiveness and adjusting therapies as needed to achieve results.
Reviewing environmental factors that may impede healing.
Providing nutritional guidance and education to augment the healing process.
Educating patients and caregivers to ensure adherence to the treatment plan.
Palliative Care Hospice Bridge Program
Palliative care provides an extra layer of support for patients with serious illnesses. Our certified registered nurse practitioners see patients at home, to help manage symptoms of serious illnesses at any stage. Patients can expect relief from symptoms such as pain, shortness of breath, fatigue, constipation, nausea, loss of appetite, and difficulty sleeping. Our Nurse Practitioners help patients understand their choices for medical care. With the ability to prescribe medications and to coordinate care with the patient's entire health network, palliative care provides the best possible quality of life. The goal is to improve quality of life for both the patient and the family. It is appropriate at any stage in an illness and can be provided alongside or in conjunction with other curative treatments.
Patients that receive palliative care can expect the following services:
Regular home visits from a nurse practitioner.
24/7 access to Doctors and Nurse Practitioners, including urgent home visits when needed.
Expert help to manage symptoms such as pain, nausea, shortness of breath, and constipation.
Patient education about illness trajectory and available community resources.
Support and effective communication with caregivers.
Conversations about health care goals.
Assistance with forms, such as advanced directives.
Home Health Aide Services
Home health aide services, and personal care services, can be provided to elderly or debilitated residents and their caregivers in their homes by a certified Saad Healthcare aide. These services are provided with the intention of enabling patients to continue to live in their homes, and avoid placement in a facility such as a nursing home or hospital.
A broad range of services can be provided by Saad, the most relevant of which are personal care and chore services, such as:
Errands – food and household shopping, medication pick-up and delivery.
Home Management Assistance – cleaning, laundry, assistance with mail, minor reparations to home, medication identification, and check writing.
Meal Preparation – cooking, labeling, and storage.
Personal Care – assistance with personal hygiene, mobility, eating and dressing.
Respite Care – in-home short term caregiver relief.
Transitional Care Management
We use disease management interventions targeted towards patients transitioning from one care setting to another.
Here is what you can expect from Transitional Care Management:
Home visits by a Nurse Practitioner who delivers education, reinforces self-care instructions, and performs physical examinations.
Implement evidence-based treatment guidelines and lead home health multidisciplinary team.
Aid in reducing hospital readmissions and other avoidable medical expenses.
Telehealth and Telemonitoring
Telemonitoring by Saad Healthcare uses the latest digital technologies to collect medical and health data from patients remotely and transmits that information securely to health care providers at Saad for assessment and recommendations.
Monitoring programs can collect a wide range of health data, such as vital signs, weight, blood pressure, blood sugar, blood oxygen levels, heart rate, and even electrocardiograms. The data is then transmitted digitally to our nursing staff for assessment. Our monitoring program can also help keep people healthy, as well as allow older or disabled individuals to live at home longer and avoid having to move into long-term care facilities. Telehealth by Saad Healthcare can also help reduce the number of hospitalizations, readmissions, and lengths of stay in the hospital—all of which will not only help improve quality of life but control healthcare costs.
Psychiatric Nursing Program
Saad Healthcare psychiatric nurses are highly-skilled, well-educated nurses with special certifications that provide direct care to their patients. This includes facilitating social and emotional needs, supervising medication schedules, and evaluating patient progress under direction from the patient's primary care physician or referring facility. Psychiatric nurses require a high degree of sensitivity, tact, and diplomacy to deal with patients that display the symptoms and behavior patterns of emotional disturbance or suffer from mental illness.
At Saad Healthcare we offer several modalities, treatments and care levels for those patients requiring this special skill set. Our nurses provide care with dignity and compassion regardless of the severity of the condition.
Services Include:
Psychiatric nursing consultations and evaluations
Venipuncture and monitoring of blood levels of psychotropic medication
Assistance in transitioning the patient from the hospital to community
Identification, coordination and mobilization of the support structure needed to maintain the client in the community
Providing home healthcare to the entire Alabama and Mississippi Gulf Coast.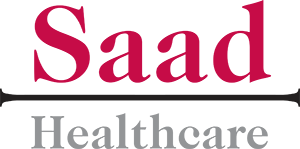 Office Locations
Home Healthcare, Hospice Care, and Private Nursing Assistance
MOBILE OFFICE
1515 University Boulevard South
Mobile, AL 36609
(251) 343-9600
(251) 380-3338 Fax
MISSISSIPPI OFFICE
10598 D'Iberville Boulevard, Suite B
D'Iberville, MS 39540
(228) 432-8855
(228) 432-8859 Fax
BALDWIN COUNTY OFFICE
6450 Highway 90, Suite F
Spanish Fort, AL 36527
(251) 239-3384
(251) 626-4555 Fax
Store Locations
Medical Supplies and Equipment
WEST MOBILE STORE
1515 University Boulevard South
Mobile, AL 36609
(251) 343-2990
(251) 342-6309 Fax
MISSISSIPPI STORE
10598 D'Iberville Boulevard, Suite A
D'Iberville, MS 39540
(228) 432-5622
(228) 432-0008 Fax
BALDWIN COUNTY STORE
6450 Highway 90, Suite F
Spanish Fort, AL 36527
(251) 626-4558
(251) 626-4555 Fax